Timo Weiland: The Reformed and Rebellious Wall Street Look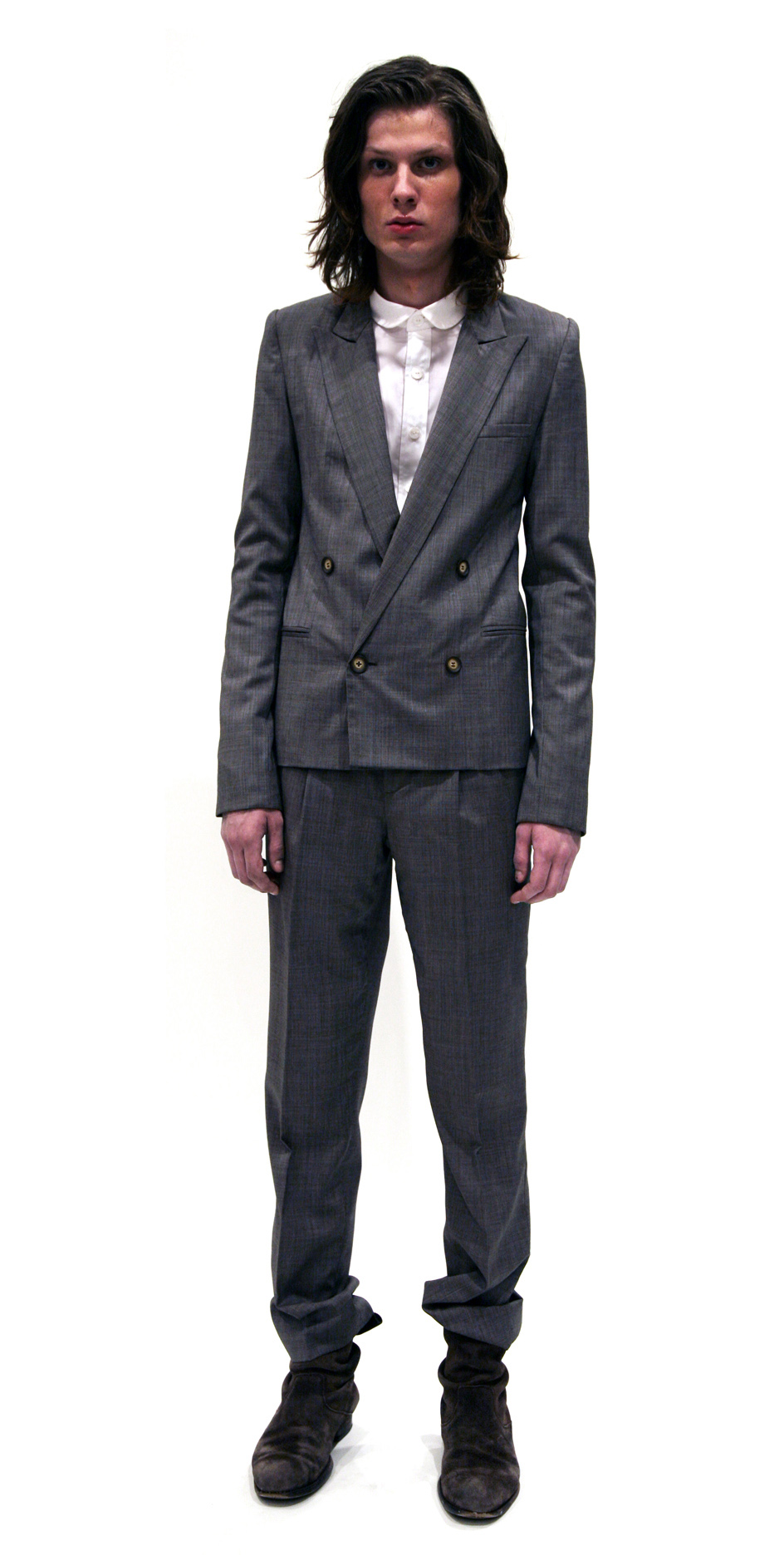 "I walk into the studio everyday with the mentality of an investment banker," says Timo Weiland. Not the mentality (or the training) you'd expect from a hot young designer, but there's a simple explanation: Weiland gets stuff done. After meeting his future business partner Alan Eckstein, 24, the 26 year-old Weiland, who left his desk at Deutsche Bank Securities last year, launched his eponymous neckwear collection, Timo. That line's unisex pieces—paperweight leather skinny ties, frilly duchess satin collars—are already a must-have accessory for fashion plates like college pal Annabelle Dexter Jones, and Josh Hartnett and Chloe Sevigny. Now, Weiland and Eckstein are unveiling their first ready-to-wear collections for men and women, called Timo Weiland. The Spring/Summer 2010 menswear line, which we previewed last week at their showroom, is foppish and androgynous, with buttonless cropped blazers in cotton and leather, perforated leather tank tops, and drop-needle sweaters with billowy collars that double as hoods. There are also, Weiland notes, "masks to scare your friends."
The designers have tempered the collection with sharp staples like a slim-fit double-breasted suit in Italian super 140s wool, a double collared trench in tan, petrol blue and emerald green, and playful blue and white oxfords trimmed with pleated cuffs, dime-sized mother of pearl buttons, and collars hewn from polka dot silk that will camouflage a matching bow tie. It's also entirely made in New York's Garment District. "My grandfather started an embroidery company here, his family was in it, and my father can remember a time when you couldn't walk down the street because there were so many fabric vendors," says Eckstein. "We're big advocates of the garment district, and as long as it's around we'll be here," adds Weiland, "We love just being able to walk in and have a piece made that same day." We talked with the up-and-coming duo about the new collection and where they're going next.
MS: This seems very directional for a first collection. Have you been thinking about it for a while?
TW: In our minds we've already done ten collections, but this is really the first one we've produced.
AE: We have a box in our office filled with ideas. Every experience you have in life produces some kind of idea, and I think something like this—ready-to-wear—was always the dream for us. We launched our accessories with not the hope but knowing this [ready-to-wear collection] would be happening.
TW: We've always had a heart for menswear. In our accessories we're seen more as a women's line, so it's a challenge to then do men's.
MS: There is certainly a unisexual look to it.
AE: I think that's Timo and I in general. I don't want to say flamboyant, although that's a great word, but we're very… we like to experience everything. We've never been afraid to wear anything.

TW: It's less drag-friendly, and more like a Chloe Sevigny who wants to throw on a men's blazer. We're fortunate enough to have a shoot with her wearing our stuff the other day.
AE: We looked at the entire rack of what was pulled for Chloe's shoot, and it was all menswear. It was womenswear accessories, but everything else was menswear.
TW: Our women love the option; that's the best way to put it. And for our men, the same. If he can swing this [grabs a perforated leather tank top] he will.
MS: What inspirations were you pulling from for the collection?
TW: We go back to artwork from Edwardian England, photographs from 18th Century France. If you go into the Frick Museum there's a full room that I feel is a playground for our fantastical arena.
AE: Kirschner was a big artist for us. His colors are just magnificent together, even to portray emotion in the eyes. If you look at his paintings each eye is painted a different color to portray emotion. Timo and I just went bonkers over that.
TW: He definitely captured style, fashion was important to him. Some things were blurred out then you'd notice a woman's blouse was overly detailed.
AE: Francis Bacon was a big inspiration. The emotion, the colors.
TW: More so than his actual work was his studio.
AE: For the splashes of color-even the paintings in his studio that he did not make, but that got splashed because his studio was like a fucked up factory.
MS: You're from Nebraska originally.
TW: That's where I was born.
MS: How does that play into all of this?
TW: I draw a lot of inspiration from there, especially the golden wheat that's incorporated into our print. I did a lot of painting in my day. I like the color scheme in Nebraska.
MS: Husker red.
TW: I feel really excited about the emerald, because I feel it completes our palette, which ranges from cognac to multiple shades of blue to grey-blue, white, our prints.
AE: And the colors are on a strange scale. They're all extensions.
TW: And everything is offered in black, aside from the shirting and suiting, because we also like having the option of wearing black.
MS: Every piece posseses so much thought, and detail.
AE: I had a Bar Mitzvah to go to and my mother goes, "You don't have a full suit." I was 14, a bit past the Bar Mitzvah era, and I'd grown 11 inches in one year. I didn't know how to walk. I was the goofiest dude in the world. Leo the Late Bloomer, my mother bought me that book actually, and she bought me a Moschino suit. She was one of these Jewish mothers that always wanted the deal of the century but wanted the best quality. She was like, "Look at this suit, look at this stitching." She didn't know what she was talking about, but I just remember the jacket having a crest on the inside and it said, "Tailored With Love." And it was remarkable. I wanted to wear it everyday.
MS: And you're 14 thinking this?
AE: Going back to that experience, it sounds corny, but we both pay attention to detail. It could be from paying attention to the sidewalk and noticing the smallest thing.
TW: And unexpected details in places.
MS: You have a few signatures it seems.
AE: The piping, the hidden buttons. We're trying to build a brand that's known for those things. When you buy a Timo Weiland shirt year in and year out you know you're getting a shirt that has hidden buttons, that has an extra stiff cuff, that has this small pleating detail [on the cuff] that might not be represented in another shirt.
MS: A lot of that seems to come from your experience of family
AE: What got me into fashion was my grandmother. She was an interior decorator and from an early age she included me in some of her projects. My parents weren't very clued in about the arts, but I had an outlet with my grandmother and she had this wonderful closet and I think that was my experience as a child. I'm actually wearing my grandfather's shirt. When he passed away my grandmother gave me over 100 shirts of his that were mostly custom-made. Throughout he changed sizes, so this is part of his later years. She gave me all of his ascots, and that inspired us tremendously for the neckwear. Timo spent some time with my grandmother as well, and that was the start of things.
MS: How'd you guys meet?
TW: I had a consulting company, I used to work on Wall Street. I was at Deutsche Bank doing m&a for telecom and media companies.
MS: You got out at the right time then?
TW: I did. I was there for the boom, and then decided to start my own company before the crash, helping young entrepreneurs. And we sat down with other young designers. I was always a hobby designer growing up. My mother taught me how to sew when I was really young, so sitting down with Alan for the first time I was like, "Wow." They had a high concept streetwear company called Epic.
AE: Timo decided not to work on his PR stuff, and I told him that it wasn't working out [with the partner at Epic].
TW: And I wanted to start a [fashion label] and I was looking for an assistant but I just saw this allignment—I've got this business and design background, you've got this design and retail background—and just took it from there, started out with accessories. And we just wanted to tackle everything.
MS: So what do you want to do with the next collection?
TW: We're really excited about layering, outerwear.
AE: Spring is somewhat of a challenge because on a day like today, it's a shirt, you couldn't try to get away with layering just one thing. Timo and I are obsessed with the idea of a coat and a jacket. It's the first thing that you see on a person.
TW: It's an investment piece. Few have a women's jacket with detail I feel hasn't been seen before. There's so much drama, but it's also very wearable. It's very structured but it's gonna be this tweed-inspired look that carries forward with our pleating but in a very different way, a much more intricate way.
AE: For men we're always going to be reinventing silhouettes.
TW: But the knits are going to be more on the drapey side. We're not into what's fitted. It's going to look right on your body, but it's not tailored knits. We love the look of a tailored pant, tailored, jacket, tailored trench, shirt.
AE: But the layering pieces are so wonderful over a tight body.
TW: Like a cascading or spilling. We've got a shawl we're playing with that can be wore umpteen thousand different ways.